The current throughput of BTC is 7 transactions per second. That's 420 tx a minute. ~600,000 a day. For a global network? How do 7 Billion people use a payment network that can only process 600,000 transactions a day?
Ethereum is doing nearly double that number of daily transactions but is also having a lot of problems with scaling and transaction costs. Ethereum tx chart here.
Here is a log chart of BSV transactions in red: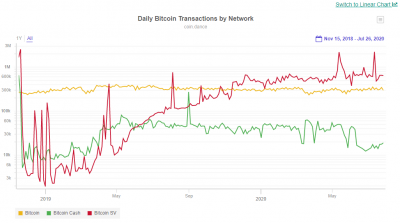 Twice BSV has exceeded 2.2M transactions for a day. This is still not enough and BSV needs exponential growth. The war is not won but the daily battles of transactions and blocksize are starting to tilt one way.
BTC does not scale and other than a few handwaves at Liquid and Lightning Network there is no plan for BTC scaling.
The importance of scaling and recognition of BSV as the King Without a Crown is not a popular opinion but you can't dispute the numbers and the facts.
And that is the investment thesis of the decade put as simply as possible: BSV scales.
Nothing else matters.