Putting a target on anything is a fool's game. Well, I'm your Huckleberry.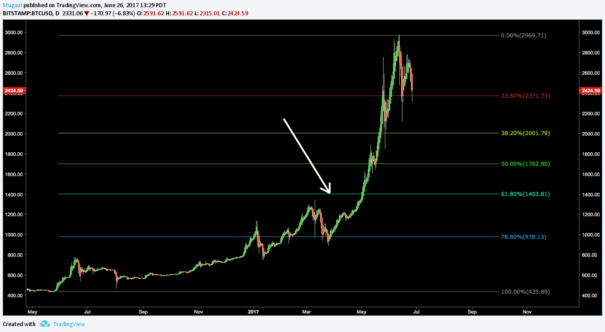 A daily chart of Bitcoin with a fib retracement of 61.8% is ~$1400. I'd say we're 50/50 to see $1700 price by August 1st and we'll overshoot it to touch $1400.
However, much like baseball, there's no crying in Bitcoin.
You either believe Bitcoin is a game changer or you don't. Buy hold or sell. Those are your choices.
Am I concerned? Sure. And yet I know Bitcoin has been here before many times. The global macro economic situation remains bullish for Bitcoin. Japan has made Bitcoin a currency. India is warming up to Bitcoin. Bitcoin is a GLOBAL phenomenon. There will be bumps in the road to world domination.
Bitcoin remains Bitcoin's major enemy as we move towards August 1st and the New York Agreement. The New York Agreement is the literal fork in the road and, besides the parabolic price rise, a possible cause for a rocky Summer in cryptoland.
The Bitcoin bulls are like early bulls in any sector. Ridiculed and sometimes publicly humiliated. But in the end Bitcoin will prevail. Even if you aren't a believer can you afford to sit out a game changing financial instrument with zero exposure in your portfolio?
Make your plans to dollar cost average in under $2,000. See you in 2018 at $10,000 or I'LL SEE YOU IN HELL.
These are your future masters of finance. Prepare accordingly.