Yesterday I entertained Bitcoin Bears with forecasts of doom for Bitcoin and a correction to $1,400.
Today I am here to tell you that the correction is over! I hope you got your cheap Bitcoins at $2,200. Barring any further detours, Bitcoin has reset it's course to $10,000.
For perspective, the move from $3,000 to ~$2,200 is a correction inside a MUCH bigger move. Look at what Bitcoin has done before: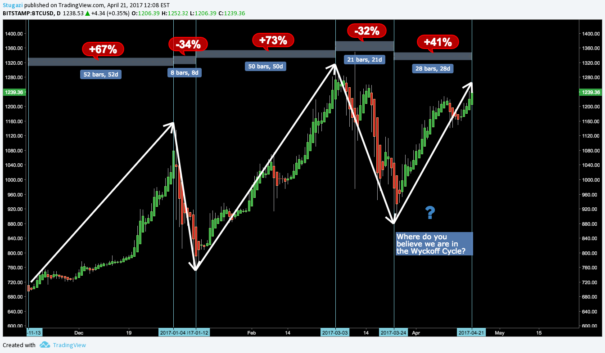 A 30% correction doesn't concern crypto veterans. Here is a link to the chart above you can click on for live update. Notice the price goes off the chart? Bitcoin has doubled in price since that chart was created. Bitcoin is repeating larger and larger Wyckoff cycles one after another and they are happening closer and closer to each other. By 2019 I predict we'll have $1,000 INTRADAY moves in Bitcoin price.
In all seriousness, if Bitcoin does not retrace to $2,000 (the 38% fib on chart below) from the top at $3k that is extremely bullish.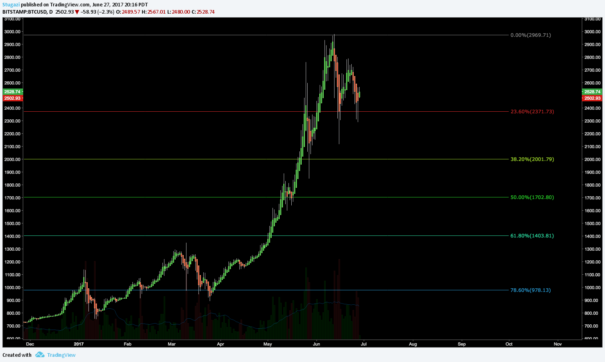 Once in a generation an investment comes along like Cryptocurrencies. This week's drama will be a blip on the chart later this year when we're over $5k and possibly flirting with $10,000 Bitcoin.
And … Cryptocurrencies are highly volatile. Most of the current coins won't survive. But to the winners will go the spoils, and the spoils of this currency war will be large indeed. Therefore Crypto should be part of everyone's portfolio.
As with any investment, consider dollar cost averaging into a position over time. If you're lucky you'll get some sub $2k coins.