Hurricane Irma has nothing on the Fudnado surrounding Bitcoin.
Let's recap what happened this week. But first, some context:
i promise it gets easier pic.twitter.com/wclu2TfWof

— Jim (@JimBTC) September 5, 2017
Let's start with: China bans ICOs. Good! ICOs are complete crap. ICOs are designed to separate fools and their money. ICOs were raising millions of dollars in hours based on very short whitepapers. There is a website where you could create your own fake whitepaper to go with your make believe Crypto project and get rich overnight. Market digested and discarded China banning ICOs within 24 hours.
Next: Bitcoin hit $5,000 for first time. Then it retraced to ~$4,000. Then back to $4,700. Now trading at $4,300. Nothing like 15-20% swings in your portfolio every 12-24 hours to keep you alert and engaged in the market!
Yours truly warned about the correction when BTC was at $4,800. Unlike most of the crypto perma bulls I believe we have another correction coming. Sideways action is healthy for the charts now.
Kijun is at $3200 on Daily chart. Lagging price by $1500. Some profit taking is recommended here. pic.twitter.com/Igalwvg3sh

— Coinspeak (@coinspeak_io) September 1, 2017
What else….oh yeah….Paris Hilton tweeted about Crypto. What that picture has to do with Crypto I have no idea other than to remind you she is Paris Hilton?
https://twitter.com/ParisHilton/status/904456098035286016
There were rumors China was "banning Bitcoin". This has happened before. This recycled news even has it's own South Park meme. (BTW, Crypto has the dankest memes)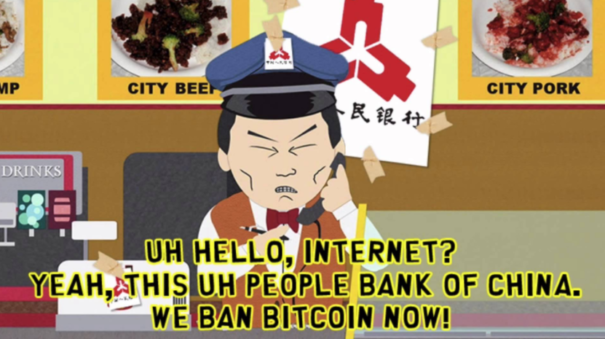 China banning Bitcoin news was discredited, then confirmed, then discredited. I honestly don't know what's true at this point and don't really care. This could be fake news?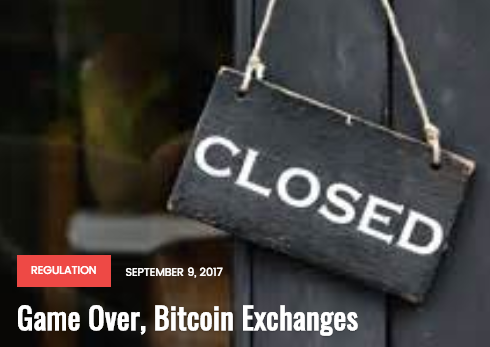 China has banned Google and Justin Bieber. Doesn't seem to affect them too much. I think Bitcoin will be fine.
Now we have renewed rumors about www.poloniex.com being close to collapsing or being seized by the government. If you have any funds on Poloniex I recommend you get your crypto/fiat out of Poloniex ASAP.
My current allocation is 80% Bitcoin Cash and 20% Monero. I believe Bitcoin Cash has more upside than Bitcoin and that privacy will be the theme of Crypto in 2018.