Tesla stock is resembling SpaceX as it rockets into space day after day. Up 10% on Friday followed by 13% today.
But I have some sobering news. The return to Earth is near.
Betting against Tesla has been a bad idea for years, but I have reasons to write this now. There are predictable cycles in markets.
Tesla exuberance has been well deserved. I love their vehicles and the company. However, certain laws in the market may bend but do not break.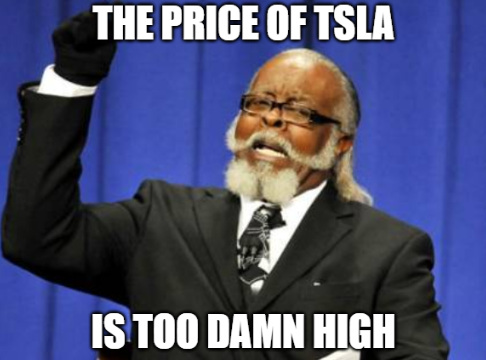 Technical Analysis is about to catch up to TSLA in the form of Mean Reversion. TSLA is 200% of it's 200 daily moving average.
Tesla has been at these euphoric levels before. From Feb 3 to Feb 25 TSLA was in the same overbought area relative to it's 200 DMA. The day after entering this area a gap up doji candle covering a 25% move appeared on the chart and then a retrace of 55% to $341 45 days later.
On the fundamentals side the CyberTruck is poised to reshape the truck market the same way iPhones reshaped mobile devices. The market has been trying to price this in for months. The issues is this does not happen overnight. TSLA bulls are ahead of themselves.
TSLA is a great company to own, but it will be even better to own it when this blow off top completes which should be this week.
I will give one caveat to this scenario and that is the markets are clearly irrational globally. If global insanity continues, well, TSLA $3,000 by September? If that happens, we'll be well on our way to a global currency reset.
I have no position in TSLA.