The Bitcoin party won't stop. Crypto traders are doing virtual keg stands on Twitter waving their dicks around showing pictures of new houses they bought with Magic Internet Money.
Yes, we're all getting rich and you're not.
Bitcoin is over $16,000 this morning. I'll say what you're thinking: "that's retarded". However, as Warren Buffett said, "the market can stay retarded longer than you stay solvent". Do not try to call a top on this. Ask me how I know.
So, is Bitcoin a Parabola, Paradigm shift or Ponzi?
If you said all of the above you are correct!
Parabola is easy to prove. Here's the weekly chart. It's top kek.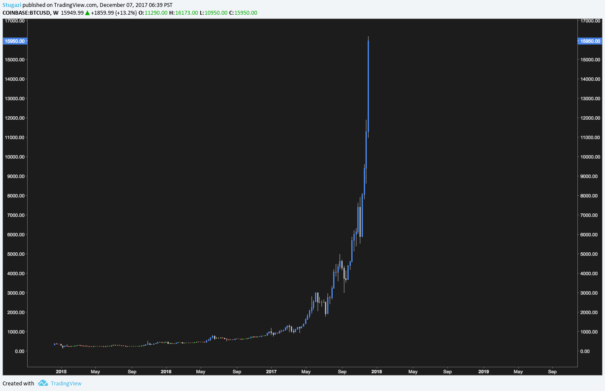 Is Bitcoin a Paradigm Shift? Turn on CNBC and watch the pontificators pontificate about Bitcoin endlessly. But that means little. Watch this video I made from April 2017.
The video shows the adoption rate of new technologies. Crypto is in the early stages of S Curve adoption. Cryptocurrency is PROGRAMMABLE money. Yes, this leads to hilarious CATastrophes like CryptoKitties wrecking the Ethereum network but it also opens the door to some Star Trek shit in the near future. Bitcoin is an incredibly deep rabbit hole. If you get anything from my blogs just get that Crypto is bigger than the Internet and comparatively we're still in AOL days. You will bend the knee or have your dick guillotined.
Is Bitcoin a Ponzi? At this point, yes. Bitcoin has printed a $5,000 Weekly candle. It's Thursday. Like any good ponzi it's hard to say how high it will go. Crypto needed an enema. This will be a colon cleanse of epic proportions. When it happens you want to be ready.
Oh, and Sunday night CME opens futures. I suspect that will be disastrous. However, the Street may decide to build the ponzi to fleece their clients before pricking the bubble.
My top picks are BCH, XMR and EOS. I tweeted trades on XMR and EOS that returned great gains past couple weeks. Follow me here: https://twitter.com/coinspeak_io